Rapid Prototype Machining
(Click on thumbnail to enlarge)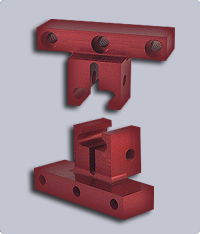 When your project requires a production-quality prototype part, look no further than NCAD Products, Inc.'s Rapid Prototyping Machining services. Using traditional manufacturing methods, such as CNC machining, turning, and 3- and 5-axis milling, we can turn your design into a fully featured prototype in as little as 1-3 days. We deliver to you an exact part, made from the correct material that can be used for form studies, fit-checks, and functional testing.
Working with your print, we can machine prototypes as large as 64" x 40" x 32" from many types of metal, including aluminum, steel, and copper, as well as many types of plastic, including Delrin®, ABS, and Ultem®. We hold to tight tolerances and perform strict inspections to ensure the dimensional integrity. We are experienced with manufacturing prototype parts for many industries, including aerospace, automotive, electronics, and medical among them. We can also assist with product design, development, and assembly.
Although 3D printed shapes might be acceptable for concept or tradeshow models, they cannot compare in quality and functionality to a machined alternative. We can produce parts much larger and more quickly than 3D printing technology allows. Our shop also handles short run and full production orders, giving you the comfort of having a supplier capable of manufacturing the part after the concept is proven. For more information on our Rapid Prototyping Machining services, contact us today.
Rapid Prototyping Machining Capabilities
Reverse Engineering Capabilities

Consulting
Dimensional Inspection
Research & Development
3D Digitizing
Software Models
Recreation of obsolete parts
Digital enlargements

Main Capabilities
Laser Scanners
Machine Probes
Manual Measurement Instruments
Software
Solid Works
File Formats Outputted

IGES
SolidWorks (SLDPRT)
STEP
STL
Parasolid

Equipment

Touch Probes
Laser Scanners
Machine Probes
Manual Measurement Instruments

Deliverables to the customer
Full set of Detailed prints
Full 3D CAD model
Machined parts